---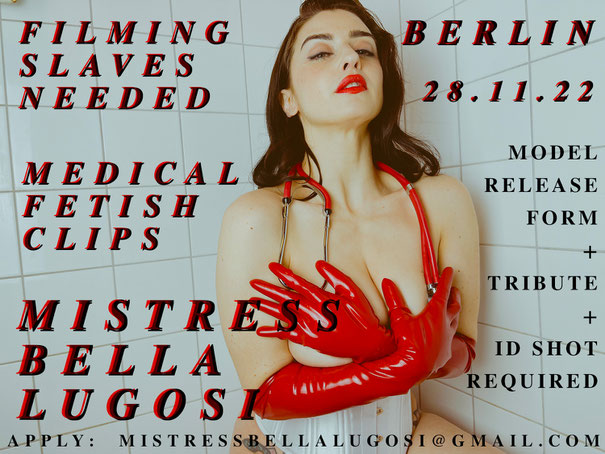 **Deutsch unten**
On Monday, November 28th I will host My first ever filming day entirely devoted to Medical / Clinic fetish filming!  Applications for filming slaves are now open.
Medical Fetish is a favorite of Mine.  Though I Myself am not a trained nurse, I was trained in medical fetish practices by My mentor, Lady Mercedes, who was an intensive care nurse before she opened Studio Avalon.  My mother is a nurse, as were My aunts and My grandmother.  Let's just say that I feel very connected to the lineage of strong, caring, driven and talented women that came before Me when I'm in My element in the Clinic.
For the filming day on November 28th, I would like to film the following practices:  Authentic Clinic Roleplay -- Full Body Examinations -- Catheterization -- Injections -- Enemas -- Needles -- Urethral Sounding -- Electrotherapy -- Anal Stretching -- Venus 2000 -- Mummification -- CBT -- Sex Change Operation -- Stapling -- Segufix -- Aromatherapy 
You will be required to afford a small tribute, and you must also provide photo ID and an ID shot on the day of the filming.  Experienced candidates who can endure painful treatments and have medical fetishes themselves are ideal, but all levels of experience may apply. 
Please send an email introducing yourself to: mistressbellalugosi@gmail.com
---
Am Montag, den 28. November gibts Meinen allerersten Drehtag, der ganz dem Klinik-Fetisch gewidmet ist!  Ab sofort such Ich Drehsklaven.
Klinik Fetisch ist einer Meiner Lieblingsfetischen.  Obwohl Ich selbst keine ausgebildete Krankenschwester bin, wurde Ich in medizinischen Fetischpraktiken von Meiner Mentorin, Lady Mercedes, ausgebildet.  (Sie war Krankenschwester auf der Intensivstation, bevor sie das Studio Avalon eröffnete.)  Meine Mutter ist Krankenschwester, ebenso wie Meine Tanten und Großmutter.  In der Klinik, fühle Ich Mich verbunden mit der starken, fürsorglichen, engagierten und talentierten Frauen, die vor Mir gekommen sind.
Für den Drehtag am 28. November würde Ich gerne die folgenden Praktiken drehen:  Authentisches Klinik-Rollenspiel -- Ganzkörper-Untersuchungen -- Katheterisierung -- Injektionen -- Einläufe -- Nadeln -- Harnröhrendehnungen -- Elektrotherapie -- Analdehnung -- Venus 2000 -- Mumifizierung -- CBT -- Geschlechtsumwandlungs-Operation -- Tackern -- Segufix -- Aromatherapie 
Du solltest ein Tribut leisten, und am Tag der Dreharbeiten einen Lichtbildausweis vorlegen / ID Shot machen.  Erfahrene Drehsklaven, die schmerzhafte Behandlungen ertragen können und selbst einen medizinischen Fetisch haben, sind ideal, aber alle Erfahrungsstufen können sich bewerben. 
Stelle dich vor!  Bewerbe dich per E-Mail: mistressbellalugosi@gmail.com